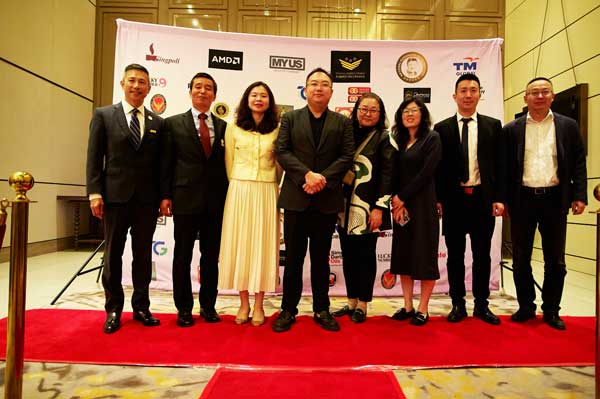 San Gabriel, June 19, 2023: The prestigious Chat Gala Dinner held at the renowned Sheraton Hotel tonight witnessed the esteemed presence of RXXF Foundation as the major sponsor, making it a night to remember. The event was graced by influential personalities, including RXXF Foundation CEO Kevin Xu and Congresswoman Judy Chu, who delivered captivating speeches, leaving attendees inspired and motivated.
With the Sheraton Hotel transformed into a glamorous venue, guests from various sectors and backgrounds arrived dressed in their finest attire, eagerly anticipating an evening of celebration and meaningful conversations. The Chat Gala Dinner, renowned for its ability to bring together individuals passionate about ASEAN regional cooperation, proved to be an ideal platform for fostering connections and forging collaborations.
RXXF Foundation embraced their role as the major sponsor with great enthusiasm. Demonstrating their commitment to medical progress, RXXF Foundation's CEO, Kevin Xu, took the stage to address the esteemed gathering. In his speech, Xu highlighted the foundation's latest initiatives, emphasizing the importance of bridging the regional divide and empowering communities through technology. His words resonated deeply, evoking a sense of unity and shared responsibility among the audience.
Congresswoman Judy Chu, a prominent advocate for technology and education, graced the event with her presence. Addressing the attendees, Chu emphasized the role of public-private partnerships in driving regional cooperation and called for greater investment in STEM education. She commended the efforts of RXXF Foundation, acknowledging their significant contributions in making technology accessible to underserved communities.
The Gala Dinner offered a platform for meaningful conversations and networking opportunities among the attendees, who were eager to connect with like-minded individuals and explore potential collaborations. The event featured a lavish dinner, entertainment performances, and an auction of exclusive tech products, with the proceeds going towards RXXF Foundation's initiatives.
As the night drew to a close, the Gala Dinner left an indelible mark on all who attended. The speeches by CEO Kevin Xu and Congresswoman Judy Chu served as a reminder of the transformative power of technology and the need for collective action to ensure its accessibility to all. The event successfully brought together influential figures, organizations, and innovators, setting the stage for future collaborations and advancements in the realm of technology.